IDAHO'S EMPOWERING PARENTS GRANTS. We are excited to pass along a great opportunity for families with school-aged children. Idaho's Empowering Parents grant application is now open! This program provides eligible families with grant funds to use towards education services and devices for their K-12 children in an effort to recover learning loss as a result of the COVID-19 pandemic. Click on the link below for more information.
https://empoweringparents.idaho.gov/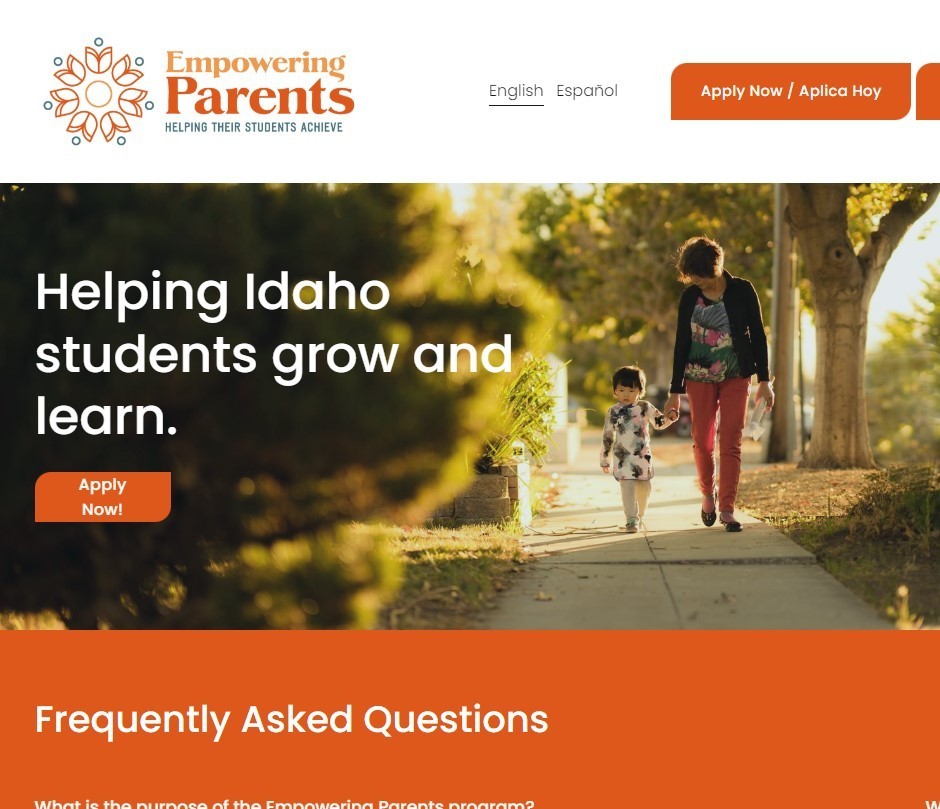 SCHOOL MENUS. We have received a lot of requests to add the monthly lunch menus to the website. These have now been added to the top of the Child Nutrition page. From the District homepage (or from any school homepage), click on the "Child Nutrition" button below the photo gallery. The different menu options will be listed near the top of the page (see highlighted area on the image). The daily menus (and even the monthly menus) can also be accessed using the Fremont County Schools 215 app.

NEW WEBSITE! The new website for Fremont County Joint School District #215 is live! Although the site is not completely finished and will be a work in progress for the next few months, we wanted to get it out as quickly as possible. The address is still
www.sd215.net
. Each of the schools can be accessed through the "Schools" menu in the upper right corner of the district home page. At the current time, the Board of Trustees and Child Nutrition links are also ready to go, and the Live Feed, News, and Events are all functional. Many of the others tabs are still under construction. You may also access information for your preferred schools and district through a new app available in the Apple and Google Play stores (search for Fremont County Schools 215). More information on the app and the new features will be coming in the next week or so. Thank you for your patience and your suggestions for improving communication. We will continue to work to make this better.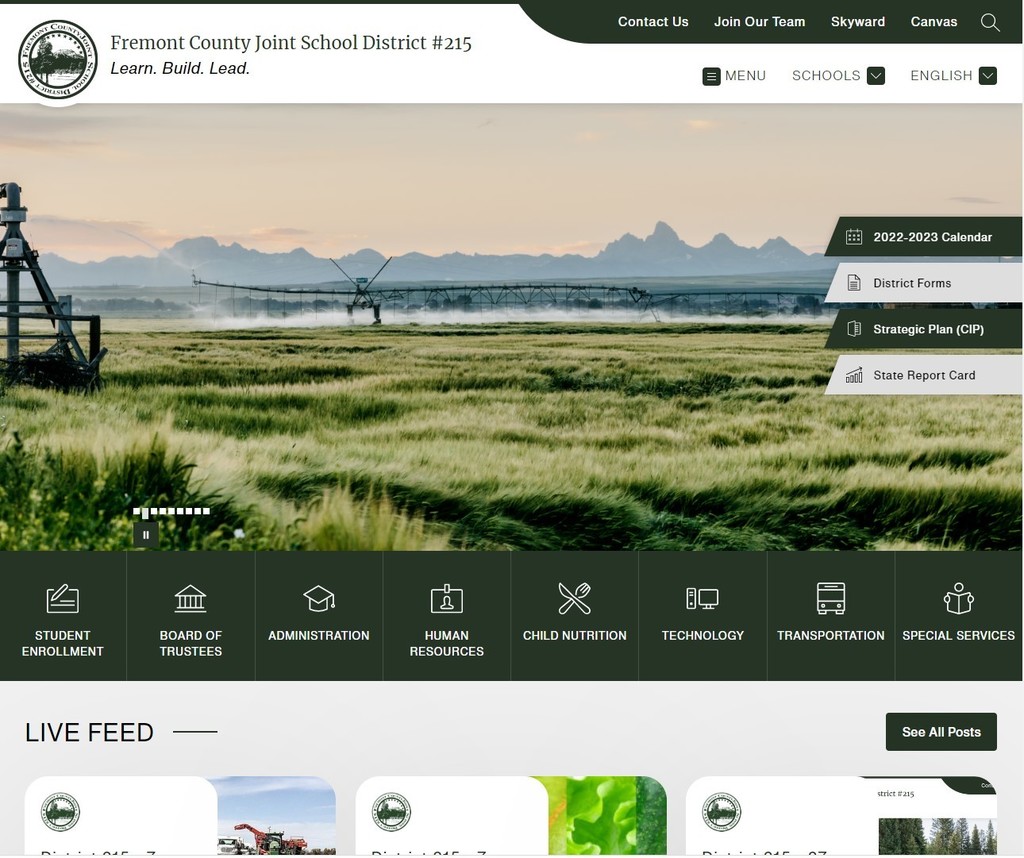 HARVEST BREAK CHANGES. In a special meeting of the Board of Trustees, the Board voted to make changes to the harvest break schedule to better accommodate the needs of local farmers on both ends of the county. NORTH (Ashton Elementary, North Fremont JH/HS)--Break will remain as originally listed on the district calendar. Students will be out starting Monday, September 19. They will return to school on Monday, October 3. SOUTH (Henry's Fork Elementary, Parker Elementary, Teton Elementary, South Fremont JH, South Fremont HS)---Break will be moved one week. Students will be out starting Monday, September 26. They will return to school on Monday, October 10.

KITCHEN MANAGER OPENING. We have a job opening for a Kitchen Manager at Ashton Elementary. It is 6 hours per day from 7:00 a.m. to 1:00 p.m. The position includes retirement and benefits. Please call the district office for more information 208-624-7542.

NEW WEBSITE COMING SOON! We are excited to announce that Fremont School District will be rolling out a new website for the district and for all of the schools. The address will remain the same (
www.sd215.net
), but the look of the overall site will be completely different. The layout for each school will be similar to the district site, but the content can be updated at the building level. We have added live feed information that will push directly to Facebook for quick notifications. There is a news section for more detailed information. The district and school calendars have been linked to their respective sites. The site allows us to more easily post information and update resources such as athletic schedules/scores and lunch menus. We can even use our new software to send messages (e.g., attendance, notices, information, reminders, snow closures, etc.). The best news is that we will have a Fremont School District app coming soon that will allow all students, parents, community members, and other patrons to have access to all of this information in one place! Once this is ready to go, we will send information on how to download and access the app. The websites and apps will be a work in progress for several months as we work to migrate information and set it up, so not everything will be working perfectly right off the bat. Thanks you for your patience. If you have any suggestions, recommendations, or ideas that might help us make this more user-friendly, please let us know. This has been a long process, but we are excited to be able to move forward.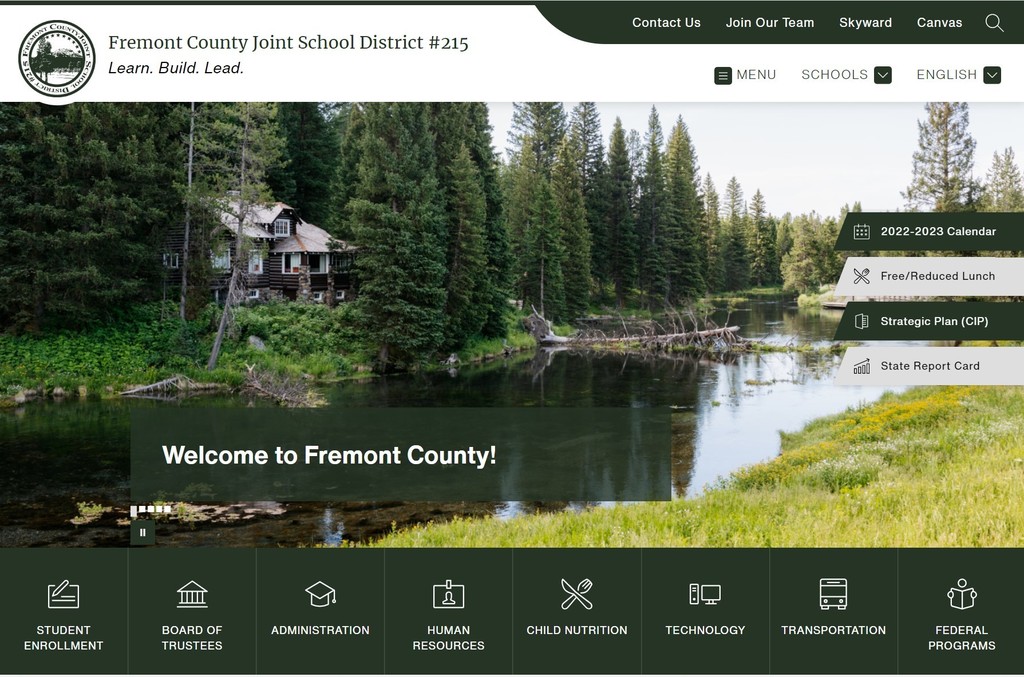 Hello parents! We are very short on bus drivers this year for both routes and activities. If you can possibly spare a few hours to help us out, please call Misty at 208-624- 7542. We will train you for your CDL and reimburse you for any costs after the school year. Starting pay for routes is $16.05 per hour. Again, please call Misty at 208-624-7542 so we can continue to safely transport your children to and from school and activities. Thanks.

We are excited to announce that we have a new website and a communication app coming soon. This will provide students, parents, and community members to have a single source for information about the school district and all of the schools. More details are coming soon.